Bespoke Plant Labels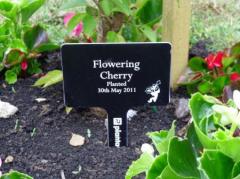 We are pleased to offer a range of bespoke, Laser engraved plant labels exclusive to PlantAdvice.co.uk, custom made to your requirements.
Our bespoke Laser engraved labels are made from exterior grade laminate. Perfect as the personal finishing touch to a pot plant gift or for use in your garden for identifying and remembering the names of different plants.
The labels are available in 3 different sizes with 4 colours to choose from. Our smaller labels are perfect for labelling different crops in the vegetable garden.
Small Finger Labels

20mm x 100mm
1 - 4 Labels: £4.99 each
5 - 9 Labels: £4.49 each
10+ Labels: £3.99 each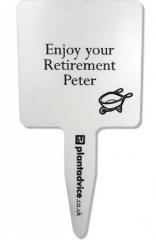 Medium Labels
75mm x 100mm
1 - 4 Labels: £6.99 each
5 - 9 Labels: £6.49 each
10+ Labels: £5.99 each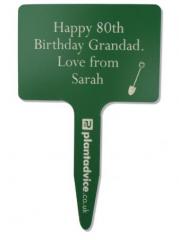 Large Labels
100mm x 170mm
1 - 4 Labels: £8.99 each
5 - 9 Labels: £8.49 each
10+ Labels: £7.99 each
Colours to choose from: Red, Black, Green or White .
Artwork to choose from (one piece of artwork per label): Flower, Wheelbarrow or Spade.
Postage and packaging £3 on all orders (UK Only, other areas can be quoted on).
Special Offers
FREE postage and package on all orders over £35 (UK Only).
Promotional 10 pack of small labels for the veg garden in a selection of mixed colours: £8.49 (contains 1 of each carrots, lettuce, spinach, onions, leeks, garlic, courgettes, beetroot, cabbage and potatoes)
How to Order
Using our order form, tell us what you would like engraved on your labels and choose from a range of artwork: (Order Form - Microsoft Excel Format)
Please Note: We must receive full payment before labels are engraved and despatched, and 'photos' of completed order forms will not be accepted.
Please pay via Paypal to our account at: paypal@plantadvice.co.uk, or by cheque made payable to PlantAdvice.co.uk (orders will only be processed once cheques have cleared).
E-mail your completed form to sales@plantadvice.co.uk, or send form to: 4 Moss Close, Upwood, Ramsey, Cambridgeshire, PE26 2QX.
Testimonials
"I received the label the day after receiving your confirmation email. Wanted to give you feedback because I've been so pleased with the service. The label was for something very special and I am delighted with the result and the quality. Your communication has been brilliant and I was surprised how quickly it came! Thanks so much for a great service. I would definitely reccomend you!"
- Rosy, September 2012
"The label has arrived today, it looks great, exactly what we ordered and it was so prompt. Brilliant service! I would recommend you to any one. Thank you for your help."
- Carol, April 2013
---