Moth Orchid
Phalaenopsis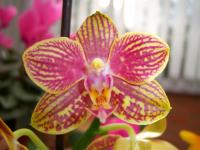 Common Name: Moth Orchid
Genus: Phalaenopsis

The word Phalaenopsis is derived from the ancient Greek for 'moth' and refers to how the flowers of these orchids resemble the insects.
Category: Houseplants
Form: Orchid

| | |
| --- | --- |
| Hardiness: Min. 15C room temp. | Height: 0.50 m (50 cm) |
| Sun/Shade: Light shade, never strong, direct sunlight. | Spread: 0.20 m (20 cm) |
Soil: For optimum results use proper orchid compost.

Phalaenopsis is one of the easiest orchids to grow. There are about 50 species of the Moth Orchid and many named hybrids.
The flowers can last for many months. Flowers grow on upright stalks which should be supported with a cane.
The leaves of the Moth Orchid are evergreen, thick, fleshy and mid-dark green.
Keep Phalaenopsis cool in summer, avoid draughts, use rainwater for watering and feed with a specialised orchid fertiliser at every other watering. Try to maintain high air humidity around the orchid (mine lives next to the kitchen sink).
Phalaenopsis are epiphytic orchids.
---