Giant Yucca
Yucca elephantipes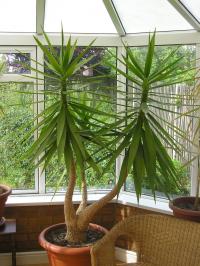 Common Name: Giant Yucca
Genus: Yucca
Species: elephantipes

The word Yucca is a modification of a name that was given to a similar plant by the Aboriginies. 'elepantipes' refers to the potential maximum size of the plant.
Category: Houseplants
Form: Evergreen shrub

Hardiness: Tender
Hardiness: Tender
Height: 10.00 m (1000 cm)
Sun/Shade: Full sun
Spread: 8.00 m (800 cm)
Soil: Loam based or standard houseplant compost the best

The 'Giant Yucca' or 'Spineless Yucca' is a tender evergreen shrub/houseplant.

Do not overwater, especially in winter. Minimum growing temp 5-10 C, Pot on every 2-3 years, can be moved outdoors in summer.

Wild examples of the members of the Yucca Genus are mainly distributed in Central and North America and the West Indies.
Similar Plants:

Adam's Needle
Yucca filamentosa
---