Aubretia
Aubrieta x cultorum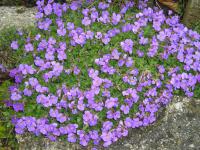 Common Name: Aubretia
Genus: Aubrieta
Species: x cultorum

This plant was named after the French botanical artist M. Aubriet.
Category: Perennials
Growth Rate: Fast growing
Features: Suitable for ground cover, Good for a rock garden, Long flowering period

| | |
| --- | --- |
| Hardiness: Hardy | Height: 0.05 m (5 cm) |
| Sun/Shade: Full sun or Partial shade | Spread: 0.60 m (60 cm) |
| | |
| --- | --- |
| Foliage Type: Semi Evergreen | Flower Colour: Blue, Purple, Pink, Red |
| Foliage Colour: Green | Flowering Period: April to June |
Soil Type: Normal/Loam or Sandy/Light or Chalky/Alkaline
Soil Moisture: Dry, well drained or Moist, but well drained

Aubretia is a low, spreading evergreen plant excellent for the rock garden or cascading over a wall or as groundcover. Aubretia originates from southern Europe and central Asia. Many cultivars are available with pink, purple, blue or red flowers.
Each plant produces many small flowers during Spring and early Summer. Trim back after flowering.
Aubretia is tolerant of a wide pH range.
This plant can be invasive.
Read more on this plant in The Gardening Guru's blog on Aubretia.
---