RHS Hampton Court Show 2011
The RHS Hampton Court Palace Flower Show is the biggest flower show in the world at 33 acres and is now in its 22nd year.
I used to compare the Hampton Court Flower Show to the Chelsea Flower Show, but I now realise that this just isn't possible, they are two completely different beasts. Chelsea is unique and is more of a horticultural spectacle, or a fashion show for flowers and gardens. Hampton Court on the other hand has its roots firmly bedded in reality and is therefore closer to what your average gardener is capable of achieving. I love them both, but probably get more usefulness out of the Hampton Court Show, whereas going to Chelsea is more akin to going to a Pink Floyd concert for its shear theatricality.
So what can you expect to see if you choose to visit the world's largest flower show at Hampton Court Palace?
Floral Marquee
11 Small Show Gardens

11 Large Show Gardens

6 Themed Show Gardens

9 Concept Gardens

Rose Tent
Fashion Show

Children's Scarecrow Competition
Trade Stands
Show Theme
Every year the Hampton Court flower show has a central theme. This year's theme was Alice in Wonderland, with the children's scarecrow competition all featuring characters from the story. The displays in the Rose tent also echoed the show's central theme.
Show Gardens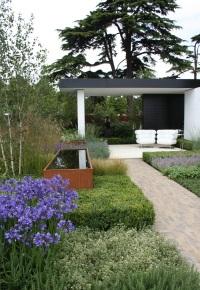 I always like the show gardens at Hampton Court as they tend to be slightly more achievable for the humble gardener; my personal favourites being the array of small gardens. I sometimes struggle with the themed gardens (this year's theme was English poets), although this year's crop were an improvement for me. However, I never really "get" the conceptual gardens, they're like modern art for gardening; it's either your thing or it's not.
In general I preferred this year's selection of large show gardens to last year's. David Domoney's Naked Garden was particularly quirky and interesting and certainly stimulated the visiting school children who could actually see the roots of the growing plants. Chris Beardshaw's World Skills garden (The Stockman's Retreat) was delightful; quintessentially English! One garden that didn't classify as an "official garden", was the garden at night in a blacked-out tent showcasing garden illumination at night. You could quite easily imagine yourself in such a place quaffing your wine late at night with a group of friends.
Floral Marquee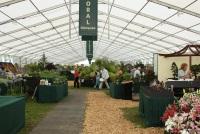 The Floral Marquee is the size of a football pitch and played host to 92 exhibits. However, if you'd attended either the Chelsea Flower show or the BBC Gardeners' World show this year, then quite a few of the floral displays would be familiar to you, having obviously done the rounds at the previous shows. I can't say that I blame them, as the amount of time, effort and money that must go into some of these displays must be phenomenal; I'd certainly want to show them off as much as possible to maximise my return on investment.
Children Friendly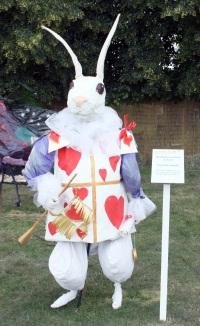 One thing that strikes you about the Hampton Court Flower Show is the number of children that you see on school trips. I think this is wonderful and the Hampton Court show certainly has a lot for children, particularly with it's promotion of vegetable gardening.
Every year there is a themed scarecrow competition for primary schools to enter, which always attracts some stunning entries and this year was no exception. The theme for this year's show was Alice in Wonderland, which seemed to attract more entries than in previous years, and all of an extremely high standard.
Grow Your Own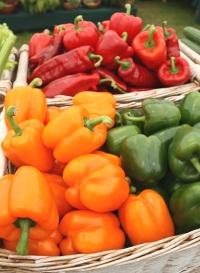 Being a little less highbrow then Chelsea, the Hampton Court show always seems to feature fruit and vegetables, either incorporated into the show gardens, or in specific displays in a dedicated show tent or garden, and this year was no exception with The RHS Edible Garden (the largest garden in the show) showcasing fruit and vegetable growing in nine separate areas as this year's show's centrepiece.
All in all an absolutely fabulous show and one well worth attending if you can get down. If you've never visited any of the RHS shows, then Hampton Court would be an ideal introduction. Being three times the size of Chelsea, you shouldn't feel so claustrophobic plus there's something for everybody.
Filed under Reviews.
---