Plants of Seasonal Interest
From our database of over 2,000 plants, or search by...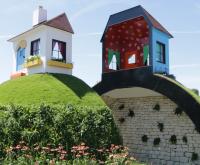 In the blistering heat of an unusually hot British summer the Hampton Court Flower Show gardens were displayed at their absolute best this year in the glorious sunlight.

What does Evergreen mean ?

Why not check out our glossary section to find what this term means and many others like it.
Love gardening and plants? Why not visit:
On: 01 Jan 1970
Sun Rise: 05:02 - Sun Set: 21:11
---
Tales from Titchmarsh

4 stars - A very enjoyable collection of Alan's favourite column articles from the past 20 years of BBC Gardener's World magazine.

Read our review...