EverEdge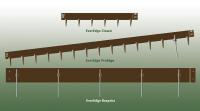 EverEdge is a UK firm manufacturing galvanised steel garden edging that has been invented and designed in Britain and is still manufactured entirely in the West Midlands.
EverEdge Classic is sold in packs of five 1m lengths and in 1.6 or 2.5mm thicknesses. It is available in 75, 100 or 125mm depths and in brown, slate, black, green or unpainted finishes.

ProEdge is designed for larger projects such as driveways and paths. It is sold in individual 2.5m lengths and is 2.5mm thick. It is also available in the same three depths as the Classic.

EverEdge Titan is for where a much larger edging is required. Sold in individual 2.5m pieces, this edging can be from 2.5 - 6.0mm thick and in depths of 150 - 300mm.

EverEdge Bespoke is exactly as you would imagine. Whatever you need for your project, EverEdge can do it. This product can be made to your specifications in mild steel, galvanised steel, aluminium, stainless steel or corten steel.
Contact Details
Address: 93 The Lloyd, Hales, Market Drayton, Shropshire, TF9 2PS
Tel: 01453 731717
E-mail: info@everedge.co.uk
Website: www.everedge.co.uk
---