UK Lawn Feed & Grass Seed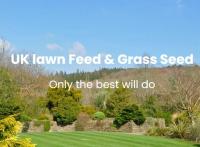 Our premium lawn feed is made by experts, trusted by professionals and comes in fully degradable packaging. Just tell us the size of your lawn and we'll give you the correct amount to get your lawn looking perfect again.
We do the calculations, so you don't have to!

We're the only company in the world (as far as we know) that sells lawn care products to match the size of your lawn.

Every lawn feed product you buy is based on your lawn size, so you can get the right amount whenever you need it.

Done this way, you get the satisfaction of maintaining your own UK lawns without the hassle of calculations, issue of confusing chemical formulas or even having to buy 20 kilos when you only need 600 grams.
Contact Details
Address: 195 Chatsworth Road, Stretford, Manchester, Lancashire, M32 9PY
Tel: 0161 528 7766
E-mail: help@relentlessgardener.co.uk
Website: www.relentlessgardener.co.uk
---