Episode 18: Tatton Park Flower Show & Gardening Jobs for September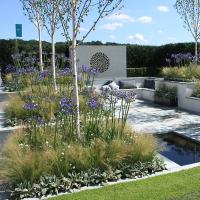 In this month's edition of the podcast we review the 2014 RHS Tatton Park Flower show. We also look at seasonal gardening jobs to do in the garden during the month of September and a selection of plants that look good in the garden at this time of year.
Review of the RHS Tatton Park Flower Show - 1' 18"
Click here to view photos of the 2014 RHS Tatton Park flower show on our Facebook page.
Elements gardens with creative designs evoking the four elements of earth, wind, fire and water
Carnival theme across the whole show with carnival dancers
Young garden designer of the year; 3 finalists
Council Flower beds
Fruit and vegetable displays
For more details, read our review of the 2014 RHS Tatton Park Flower Show.
Plant of the Month - 10' 13"
Our plant of the month for September is Dahlia 'Bishop of Llandaff'.
Popular Peony flowered Dahlia
RHS Award of Garden Merit
RHS Perfect for Pollinators award
Flowers: Bright vermilion red, semi-double 5-6cm across, long flowering, July to September
Make excellent cut flowers
Foliage: Dissected and fern-like, almost black (dark red-purple)
Height up to 1m, spread 50cm; staking may be required
Average growth rate
Soil: Fertile, humus-rich
For the best flowering performance, feed the plants weekly with a nitrogen rich fertiliser during June, then a potassium rich fertiliser when in flower
Deadhead regularly to prolong flowering
Likes full sun, but is Half-hardy (needs winter protection)
Recommended that the tubers are lifted in autumn, cleaned and allowed to dry naturally indoors before being stored in a frost-free place for the winter, although a thick mulch over the tubers in situ may suffice in warmer areas, but they could suffer from slug attacks, especially in heavier clay soils
Jobs in the Garden - 14' 14"
Transplant Evergreen Trees and Shrubs - Providing they are not too big; the younger the better, September is an excellent month to transplant evergreen trees and shrubs if you think you might have planted them in the wrong place, or you think it's just time to re-organise a border. Prepare the hole into which the plant is to be moved into first, because when you dig the plant up you want it back in the ground as quickly as possible to prevent the roots drying out. After you have dug the hole and dug in plenty of well-rotted manure or garden compost into the base, it is time to dig up the plant. Take your time and dig as deep as you can to minimise root damage and to end up with the biggest possible root-ball. Make sure you get some help to lift the plant into the freshly dug hole. Make sure the top of the root-ball is level with the soil surface and then backfill the soil, firming down carefully with your heels as you go. Finally water daily as there will inevitably have been some root damage and the plant needs to be in 'intensive care' for a few weeks after the transfer.
Plant Spring Bulbs - Daffodils, Winter aconites, Crocuses, Hyacinths and Scillas can all be planted this month. Refer carefully to the planting instructions for each type of bulb, make sure you plant them at the correct depth and allow enough space between each bulb in the planting hole. If you have heavy, poorly drained soil in your garden, add grit or sand into the planting hole and around the crowns of the bulbs to prevent rot in wet weather.
Sow Grass Seed or Lay Turf - September is just about the best month to sow grass seed for a new lawn or lay turf. Or you may have worn patches of an otherwise good lawn that need repairing/re-seeding. The weather this month is usually perfect for the job because the soil is still warm and the chances of rainfall are higher.
A good month for new additions to the garden, usually reliably moist weather makes it a good time for planting
Dead-heading
Regular lawn mowing (raise the height of cut in very dry weather)
Trim border edges
Regularly spray roses against greenfly and black-spot
Water and feed containers and hanging baskets regularly
Take cuttings of pinks and carnations
In the Vegetable Garden - 18' 59"
Sow seeds inside of: Lettuce
Sow seeds outside of: Spinach and Radish

Harvest: Peas, French beans, Tomatoes, Onions, Radish, Carrots, Turnips, Beetroot, Spinach, Cauliflowers, Cabbages, Lettuce, Globe artichokes, Broad beans, Runner beans, Marrows, Courgettes, Cucumbers, Potatoes, Swiss Chard, Broccoli, Sweetcorn, Aubergine, Peppers, Pumpkins and Brussels Sprouts.
Plants of Note - 19' 44"
Two plants that we felt were worthy of note for this month are:
Hardy deciduous shrub
Native to Asia not Syria / Linnaeus wrongly named it
Rose of Sharon (especially in North America), Rose Mallow (United Kingdom) and St Joseph's Rod (Italy)
Reasonably fast growth rate
2m tall, 3m spread
Likes full sun
Soil: Humus-rich, moist but well-drained, neutral to slightly alkaline soil
Flowers: Large White 10cm diameter, mallow like, intricate centres, August to October
Foliage: Shallowly lobed, dark green
Good for cooler areas as the flowers stand up well to the weather
RHS Award of Garden Merit
Easy-to-grow; doesn't need much pruning once established
Prune young plants hard in late spring to encourage bushy growth
Mulch well with garden compost after pruning
Half hardy (may need winter protection), deciduous shrub
Average growth rate
2m tall, 3m spread
Likes full sun or partial shade
Soil: Fertile, moist, well-drained soil
Flowers: Long flowering, purple/red dangle from arched stems, June to October
Foliage: Dark green with a bronze tint
Likes protection from cold drying winds
Can be used as an informal hedge
Water regularly with a balanced feed once a month
Prune in early spring
RHS Award of Garden Merit
Forthcoming Garden and Flower Shows - 25' 57"
Useful Links
.
---