Episode 28: Chelsea Flower Show Interviews & Gardening Jobs for July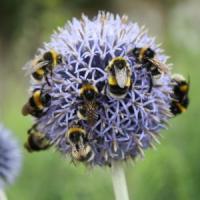 In this month's edition of the podcast we talk to some of the top garden designers at the 2015 RHS Chelsea Flower show. We also look at seasonal gardening jobs to do in the garden during the month of July and a selection of plants that look good in the garden at this time of year.
Midsummer is here and gardens are usually at their floriferous best during the month of July. Borders should be at their fullest now and there should be hardly any space for weeds to grow. Gardens at this time of year are full of colour and wonderful scent. During this month, probably more than any other, our gardens become additional 'outdoor rooms'.
If you have worked hard in the vegetable garden this year, it's reward time, with loads of harvesting to do this month.
Interviews with Chelsea Garden Designers
At the 2015 RHS Chelsea Flower show we talked to some of the top garden designers and exhibitors:
Kamelia Bin Zaal - The Beauty of Islam Garden, winning Silver Gilt
Sean Murray - The Greening Grey Britain Garden
Andy McIndoe – Hillier Nurseries, winning a gold medal
Click here to view photos of the 2015 RHS Chelsea flower show on our Facebook page.
Plant of the Month
Our plant of the month for July is Echinacea 'Hot Summer' - Coneflower
Echinacea comes from the Greek word echinos meaning hedgehog in reference to the spiny centre cone of flowers in the genus
Fully hardy perennial
Plant Breeder Rights
Growth Rate: Average
Size: 1m tall, 40cm spread
Prefers full sun, but can tolerate a little shade

Soil: grows well on most soils, except extremely dry or wet
Flowers: Single fragrant flowers with narrow petals around an orange-brown coe. Golden yellow-orange flowers turning a rich red on maturity from June to September; lots of variation of colour therefore on the same plant

Foliage: medium-green, narrow ovate leaves
Excellent for cut flowers
RHS Perfect for Pollinators Award
Maintenance: Cut stems back as flowers begin to die off to encourage more floers. Lift and divide congested plants in spring or autumn.

Jobs in the Garden
Irises that have not been split for a few years can become tired and lose their vigour, and this can affect their flowering performance.
Dig the clumps up, select the best, plumpest rhizomes and replant them with good space between them having added some well-rotted compost or manure to the soil beforehand.
Finally cut back the tall foliage by half, this stops them rocking around too much in the wind as they re-root and it also reduces the amount of evaporation from the leaf surface.

Collect Seed

Save and store seed of your favourite Aquilegia and Primula. They will set themselves about in the garden, but if you collect the seed beforehand you can have a say as to where they colonise.
Sow as soon as the seed is ripe.

Lift and store spring bulbs such as daffodils and tulips

You don't have to do this every year, but it is a good routine to get into if you want to create more spring colour around the garden.
Dig up the bulbs, remove any young bulbs growing on the sides of the larger ones and store all of them for replanting in the autumn.
Discard any diseased or unhealthy looking bulbs.

Trim and Shape Hedges

If you have left this job until now, well done! Garden birds will have had plenty of time to raise their offspring in the hedges by now and the risk of disturbing them should have passed.

If you are going on holiday, plan how you are going to keep your plants watered whilst you are away.
Cutting Delphiniums to the ground after flowering may encourage a second flush of flowers.
Tie flowers that are flopping over on to stakes
Dead-heading
Regular lawn mowing (raise the height of cut in very dry weather)
Trim border edges
Regularly spray roses against greenfly and blackspot
Damp down greenhouse paths regularly to create a humid atmosphere that pests such as red spider mite do not like
Water and feed containers and hanging baskets regularly
Cut flowers now to dry for winter arrangements, hang them upside down in an airy place. Suitable plants include bergamots, lavender and teasel.
Prevent Aphid damage by rubbing off infestations or spraying
Net vulnerable crops to prevent caterpillar damage, or spray
In the Vegetable Garden
Sow seeds outside of: Lettuce, Radish, Carrots, Turnips, Beetroot, Spinach, Swiss Chard, Spring Cabbage, Kohl Rabi, Fennel and Chicory

Harvest: Rhubarb, Peas, French beans, Tomatoes, Onions, Radish, Carrots, Turnips, Beetroot, Spinach, Cauliflowers, Cabbages, Lettuce, Globe Artichokes, Broad beans, Runner Beans, Garlic, Shallots, Marrows, Courgettes, Cucumbers, Potatoes, Calabrese, Broccoli and Swiss Chard
Transplant Leeks when pencil thick
Water crops when required in dry weather

Forthcoming Garden and Flower Shows
Useful Links
.
---