Episode 2: The 2011 Hampton Court Flower Show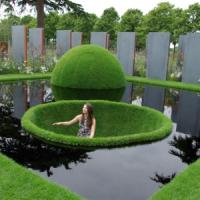 Richard and George discuss the 2011 RHS Hampton Court Flower Show together with an interview with garden designer Chris Beardshaw from the show.
During his visit to the 2011 RHS Hampton Court Palace Flower Show, Richard bumped into the award winning celebrity garden designer Chris Beardshaw and managed to grab a few moments with him discussing the design and inspiration behind his entry "The Stockman's Reatreat" to this year's show, which won a Silver-Gilt medal and the people's award for the best large show garden.
Podcast: Video Version
We have also included the podcast as a short video slideshow for you below, which includes photographs from our interview with Chris Beardshaw at the show. The video is just over 12 minutes in length.
.
---