Episode 1: The 2011 Chelsea Flower Show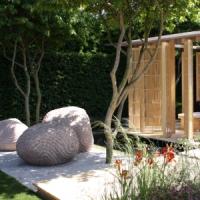 Richard and George discuss their visit to the 2011 RHS Chelsea Flower Show together with a selection of celebrity interviews from the show.
During our day at the 2011 RHS Chelsea Flower Show, we managed to bump into a number of celebrities who generously gave us a few moments of their precious time to tell us what they thought of this year's show.
The celebrities that we were able to talk to during the show were:
Alan Titchmarsh
Rachel de Thame
Christopher Biggins
Johnny Ball
Phillip Schofield
Laurence Llewellyn-Bowen
Matt James

Ringo Starr also offered us some useful advice on what to do if you have clay soil in your garden; invaluable advice for many people in a similar situation.
Podcast: Video Version
We have also included the podcast as a short video slideshow for you below, which includes photographs from our celebrity interviews at the show. The video is just under 20 minutes in length.
.
---