The East of England Show 2011
Whilst predominantly a local agricultural show, the East of England show also hosts one of the country's premier Orchid shows.
The East of England Show is an annual agricultural show based in Peterborough, but in addition to the agricultural element of the show it also hosts a floral marquee showcasing floral arrangements from local flower arranging groups and societies, many of the displays of which would not look at all out of place at Chelsea.
The show also features a few small show gardens created by students of local agricultural / horticultural colleagues. Most of these are the student's first forays into the garden design world, a few of which you can foresee a great potential future lying ahead of them.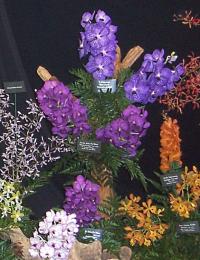 The highlight of this show for the average gardener, or keen horticulturist, however is undoubtedly the Orchid marquee, which hosts the annual Peterborough International Orchid Show. This show attracts a vast array of specialist Orchid growers from around the country and indeed the world and also a number of amateur societies that compete for the best show display.
This year's best amateur display was won by the East Midlands Orchid Society and the best Trade Display was won by Asendorfer Orchideen from Germany.
If you're remotely interested in Orchids, then this show is well worth attending, not least to pick the brains of some of the country's finest Orchid growers for advice on how to grow your own Orchids, but also for the opportunity to purchase rare varieties that you are unlikely to see in most garden centres.
If you're new to growing Orchids, then you don't need to be put off by the mystique that surrounds them, you can begin very easily with a common Phalaenopsis and who knows, you may get bitten by the bug!
Filed under Reviews.
---