Episode 24: Caring for Cut Flowers and Gardening Jobs & Plants of Interest for March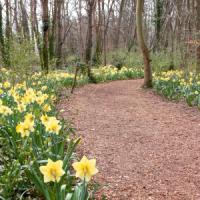 March heralds the start of spring, at least in theory. However, in reality this month can be a slow transition from winter into spring. Hardened gardeners will no doubt have been pottering around in the garden all winter, but most of us just begin to venture out this month as the weather improves and the soil warms up. And it's a fantastic time as many plants emerge from their winter dormancy and spring bulbs burst into bloom.
How to care for your cut flowers
Cut under water to prevent an air embolism with a sharp knife. Don't use scissors as the gauge is set for thinner things like paper and they'll damage the stems and the vascular system
Cut at an angle to increase the surface area of the cut to improve water take up
Re-cut every few days
Use lukewarm water unless the flowers are from bulbs like tulips, which prefer cold water
Remove any leaves that would be underwater to retard bacterial growth
Feed: Add some sucrose, plain granulated sugar to feed the plant
Add some bleach as a biocide to kill any pathogens that may multiply and block the stems from taking up water. Also helps to keep the water clear
Add some lemon juice to acidify the water to help its uptake into the stem
1 teaspoon sugar, 1 teaspoon household bleach, 2 teaspoons lemon or lime juice, 1 litre/quart lukewarm water
Keep cut flowers away from fruit which produce ethylene, causing flowers to age faster
Keep out of direct sunlight or near radiators or vents
Plant of the Month
Our plant of the month for March is Anemone blanda 'White Splendour' - Winter windflower or Wood Anemone.
Fully hardy, deciduous herbaceous perennial
RHS H4 -10 to -5°C; Hardy in most places throughout the UK
Height up to 15cm, spread 15cm
Prefers full sun but will tolerate partial shade
RHS Award of Garden Merit
Growth Rate: Fast, 2 – 5 years to maturity
Flowers: From March to April, large (4cm) pure white daisy-like flowers with yellow centres, each having from 9 – 14 strap-shaped petals
Foliage: Attractive fern-like, dark green foliage, divided into three, lobed and toothed segments
Soil: Well-drained, humus-rich soil, or light, sandy soil
Contact with the sap may cause skin irritation
Plant in big groups for extra impact and they are also useful for planting below specimen trees or at a woodland edge.
Propagate by division of the tubers in summer when the plant is dormant
Maintenance: Low maintenance, but could be subject to leaf spot, powdery mildews and smut and may be attacked by bud and leaf eelworms, slugs and caterpillars
Jobs in the Garden
Bedding plants

This month, seeds of half-hardy annuals for bedding displays, hanging baskets or containers can be sown indoors in a greenhouse or on a sunny windowsill.
Fill a seed tray with seed compost, firm it down with a flat piece of wood and water well. Seed compost is not as fertile as potting compost as the seeds should have their own food stores. Good drainage is also essential in seed compost.
Scatter the seeds on to the surface of the compost and using a sieve and then cover with a thin layer of seed compost.
Cover with a sheet of glass or clear polythene to help keep the compost moist.
When the seeds have germinated and produced their first pairs of leaves, carefully prick them out into individual pots or module trays and move to a slightly cooler place to begin the hardening off process.

Prune shrubs to produce colourful winter stems

Some shrubs such as the dogwood, Cornus alba 'Sibirica' are grown specifically for their beautifully coloured bare stems during the winter months.
March is the best time to prune these shrubs to produce the best stem colour for next year and they should be pruned hard right down to 3 or 4 buds from their base.

Rose and shrub pruning

Hybrid tea roses are traditionally pruned this month
Weak and dead stems are should be removed
Strong healthy stems should be cut to about 40cm above ground to an outward facing bud.
Shrub roses should also be pruned, but don't prune them as hard, only removing about one third of their total height.
If the centre is congested, remove some of the stems right down to the base.
Treat patio/miniature roses in the same way this month.
Buddleja davidii cultivars should be pruned hard this month and other shrubs such as Acer negundo 'Flamingo' should be pruned to produce the best, fresh young foliage.

Cut back ornamental grasses

Ornamental grasses can be cut back right down to their base this month and should quickly reward you by producing fresh new foliage for the year ahead.

Feed container grown ericaceous shrubs that flower next month (April) e.g. Camellia and Rhododendron. This gives them a boost and encourages even more blooms.
As many plants come out of their winter dormancy they will benefit from a top dressing of well-rotted compost or manure. This is also a good practice to do after pruning shrubs.
Split congested clumps of herbaceous plants by prising them apart with two forks or dividing with a spade. The centre of the plant will be the most tired, so just keep the more vigorous outside sections.
If the weather is suitable and the ground isn't too wet, consider cut the lawn for the first time.
In the Vegetable Garden
Sow inside: Tomatoes, Aubergine, Basil, Beetroot, Cabbage, Cauliflower, Courgette, Gherkin and Lettuce.
Sow outside: Broad beans, Onions sets or seeds, spinach and Brussel sprouts this month without the need to protect them from frost.
If protected with cloches, seeds of peas, french beans, carrots, turnips and beetroot can be sown outside.
Plant out: Tubers of Jerusalem artichokes and young Seakale plants.
Garlic cloves can also be planted out this month.

Garlic continues to grow in popularity plus it has many health benefits, so is a good crop to consider. Your planting site should be sunny, with well-drained soil that has had plenty of well-rotted organic matter added.
Separate the cloves from the bulb.
Plant the cloves in holes 3cm deep and about 15cm apart.
Keep the site weed free and tie the long leaves to canes to stop them snapping off in the wind.
Harvest in mid-late summer, where each clove will have turned into a whole bulb
Plants of Note
Two plants that we felt were worthy of note for this month are:
Magnolia × soulangeana 'Black Tulip' or 'JURmag1' PBR, hybrid from New Zealand
Pierre Magnol was a Professor of Botany during the 16th century
Fully hardy deciduous, shrub with a compact habit
Growth Rate: Average
8m tall, 5m spread
Full sun or partial shade
Soil: Moist, but well-drained, preferably acidic to neutral. Magnolias don't like wet feet.
Flowers: Deep burgundy-purple, tulip-like flowers from March to April, 15cm diameter
Foliage: large leaves
Maintenance: Low maintenance. Requires minimal pruning, but diseased, damaged or crossing branches can be pruned out in midsummer or late winter to prevent bleeding of sap.
Magnolia flower buds can be susceptible to late frosts
Shelter large-leaved species such as this from the wind
Fully hardy evergreen perennial
Growth Rate: Average to Fast, 2-5 years to maturity
30cm tall, 45cm spread
Full sun or partial shade
Soil: Will tolerate most types of soil including clay and dry soils
Flowers: Magenta coloured flowers from March to April on tall red stems
Foliage: Large, leathery, flushed red, deep green oval leaves, hence its common name, which turn to a rich claret in winter.
Maintenance: Low maintenance. Dead head faded flowers and remove any damaged foliage in spring.
Propagate by lifting and dividing in spring
Useful Links
.
---