Episode 9: Caring for your Christmas House Plants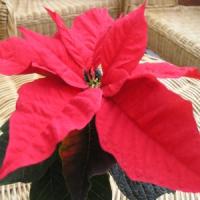 Caring for your Christmas house plants, our plant of the month; Prunus serrula, perfect pairing (2 plants that go well together); Hamamelis mollis and Sarcococca hookeriana var. digyna, listener's questions and jobs to do in the garden this month.
In this month's edition of the podcast we discuss seasonal gardening jobs to do in the garden during the month of December and a selection of plants that look good at this time of year, including the ubiquitous Christmas house plants the Poinsettia and the Christmas Cactus.
Plant of the Month - 05' 45"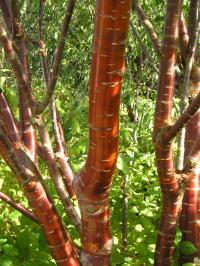 Our plant of the month for December is Prunus serrula also known as the Tibetan Cherry.
Height 12m, spread 10m
Hardy, full sun or partial shade
Average growth Moist, well drained loam
Flowers May, white; cherry-like fruits Dark green, willow-like leaves turning yellow in Autumn
Amazing shiny, rich brown peeling bark
Perfect Pairing - 08' 40"
For the month of December we've picked two plants that compliment each other because of their fragrance:
Slow growing hardy shrub
4m tall, 4m spread
Full sun/partial shade, moist, well drained ericaceous soil
Flowers: fragrant spidery yellow, Jan & Feb
Slow growing, evergreen, hardy shrub
1.5m tall, 2m spread
Partial/Deep shade, moist, well drained loam soil
Flowers: vanilla scent fragrant, cream white tassel like, Dec to Mar; long flowering period
Jobs in the Garden - 12' 47"
Garden furniture, pergolas, trellis and archways can be painted with wood preservative
Cover borderline hardy perennials with a protective mulch of compost
Horticultural fleece can be used to protect larger tender plants

If heavy snow falls, shake off branches of trees & shrubs to prevent snapping under weight
Stop the water supply to outside taps & leave open; lag to protect from frost damage
In the Vegetable Garden - 17' 41"
Plant out: Rhubarb crowns
Harvest: Spinach, Cauliflower, Brussels sprouts, Leeks and Kale
Plants of Note - 18' 27"
Another two plants that we felt we worthy of note for this month are:
Fast growing, evergreen hardy shrub; architectural
5m tall, 4m spread
Full sun/partial shade, moist, well-drained soil
Flowers: fragrant yellow, Nov to Mar, long flowering period
Dark green holly-like leaves Purple berries
Fast growing, hardy shrub; interesting bark
1.5m tall, 1.5m spread
Full sun/partial shade, moist, well-drained soil
Flowers: cream/white, May & Jun
Dark green oval leaves Bright coral-red stems
Listener's Questions - 22' 10"

Faith Perry - I cover my clematis when frost is forecast. Can I just leave it covered even though the weather improves? Also, does it need a double thickness of fleece or will a single one be sufficient? It is beautiful but hard work when I have to go out and cover it each night that a frost is forecast.
Izabela Russell - Why are my strawberries and snowdrops coming up in November?
David Bradbury - Do garden fertilisers - bonemeal, blood and bone etc. have a shelf life?
.
---