Episode 21: Gardening Jobs and Plants of Interest for December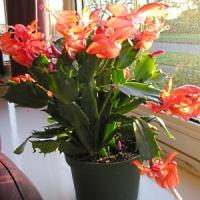 In this month's edition of the podcast we look at seasonal gardening jobs to do in the garden during the month of December and a selection of plants that look good in the garden at this time of year.
Review of the Year's Podcasts - 01' 11"
As the last episode of the year, we take the opportunity to re-cap on the previous podcast episodes through the year, highlighting some of the plants we discussed and people we talked to in the podcasts.

Plant of the Month - 10' 23"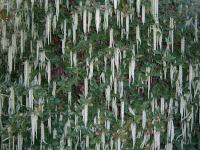 Our plant of the month for December is Garrya elliptica 'James Roof' – Silk Tassel Bush.
The genus of this plant takes its name from Mr Garry, who was a trusted assistant of the plant collector Douglas
Frost hardy, evergreen shrub

Not fully hardy but will cope with a frost (H4 RHS scale -10°C), so think about this when planting and give it some protection if you can by it planting against a wall or amongst other shrubs if you're in a colder part of the country

This shrub produces interesting flowers when many other plants are beginning their winter dormancy, flowering from December through to February. The silvery flowers are catkin-like and very long, up to 20cm in length and hang down amongst the evergreen, holly-like dark glossy foliage.
Likes full sun or partial shade
Height up to 4m, spread 4m
Average growth rate, 10-20 years to maturity
Soil: Grows in most soils providing they are well drained
RHS Award of Garden Merit
Maintenance: Prune in early spring
Generally pest free, but may be affected by leaf spot
Jobs in the Garden - 12' 32"
Care for your Poinsettia - Euphorbia pulcherrima

Everyone loves to see the stunning foliage of a Poinsettia at Christmas time, but to ensure that your Poinsettia has a stress free Christmas, keep it in a room that is neither too hot nor too cold; about 16°C (60°F) is perfect.
Try to let the Poinsettia get as much sunlight as possible, and allow the compost to dry out between waterings and mist regularly to maintain high air humidity around the plant

Care for your Christmas Cactus - Schlumbergera bridgesii

Whilst your Christmas Cactus is flowering, water it a little more than you would at other times of the year. As with the poinsettia, a room temperature of about 16°C (60°F) is fine.
If you want a Christmas Cactus to flower year after year, put it outside during the summer months in a shady location.

Garden furniture, pergolas, trellis and archways can be painted with wood preservative
Cover borderline hardy perennials with a protective mulch of compost
Horticultural fleece can be used to protect larger tender plants
If heavy snow falls, shake it off the branches of trees and shrubs to prevent them snapping under the weight
Stop the water supply to outside taps and lag to protect against frost damage
In the Vegetable Garden - 15' 13"
Plant out: Rhubarb crowns
Harvest: Spinach, Cauliflower, Cabbage, Brussels sprouts, Lettuce, Leeks and Kale
Plants of Note - 15' 52"
Two plants that we felt were worthy of note for this month are:
Fully hardy deciduous shrub (RHS H5 -15°C)
Average growth rate, 10-20 years to maturity
2m tall, 2.5m spread
Full sun or Partial shade
Soil: moist but well-drained, humus-rich, soil
Flowers:

Strong sweet fragrance – plant by a path
Clusters of small (15mm wide) cream flowers with yellow anthers, on the bare branches in winter and early spring, December to March

Foliage: bright green, ovate leaves
RHS Award of Garden Merit
RHS Perfect for Pollinators
Maintenance: In late spring cut back a third of the flowering shoots and mulch generously
Can be susceptible to aphids and powdery mildew
The latin Cornus means 'horn', in this case referring to the hard nature of the wood
Fully hardy deciduous shrub
Fast growing
1.5m tall, 0.8m spread
Full sun or partial shade
Soil: any moderately fertile soil
Flowers: small, creamy-white flowers in May and June
Foliage: oval, mid-green leaves; orange-yellow in autumn
Flame-coloured stems in winter
Maintenance: To achieve the best stem colour (on new growth), every year in spring cut the stems hard back to about 5-7cm from the ground and mulch the base

Useful Links
.
---