Episode 27: The 2015 Chelsea Flower Show & Gardening Jobs for June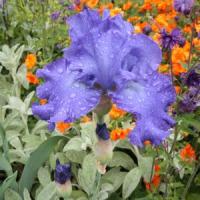 In this monthís edition of the podcast we talk to some of the top garden designers at the 2015 RHS Chelsea Flower show. We also look at seasonal gardening jobs to do in the garden during the month of June and a selection of plants that look good in the garden at this time of year.
The first of June feels like the start of summer as we say goodbye to spring and welcome the longest and often the warmest days of the year. Hard work in the previous months should allow you some respite and relaxation in the garden this month. And if the weather is really hot in June, the garden in the evening can be especially delightful, it's one of the few months of the year when you can still be busy in the garden until 10 oíclock at night.
Interviews with Chelsea Garden Designers
At the 2015 RHS Chelsea Flower show we talked to some of the top garden designers:
Chris Beardshaw Ė The Healthy Cities Garden, winning a gold medal
Harry and David Rich - The Cloudy Bay Garden, winning a gold medal
Click here to view photos of the 2015 RHS Chelsea flower show on our Facebook page.
Plant of the Month
Our plant of the month for June is Iris ĎMer du Sudí - Bearded Iris
Fully hardy perennial
RHS H7: < -20C. Hardy in the severest European continental climates
Growth Rate: Average, 2-5 years to maturity
Size: 80cm tall, 40cm spread
Full sun
Soil: Well-drained, moderately soil
Flowers: Blousy, violet blue flowers with same coloured beard on strong stems from May to June
Foliage: Sword shaped, grey-green leaves
RHS Award of Garden Merit
Harmful if ingested
Maintenance: Plant shallow with the rhizomes exposed to the surface and cut the leaves down by half to prevent the wind rocking and disturbing the establishing plant. Remove stems after flowering so the plant can put energy back into the rhizomes for the following year. May require staking in exposed areas.
Propagation: Divide and replant every three or four years.
Jobs in the Garden
Save and store rainwater

You might already have a water butt in your garden, the more the merrier. If you donít have a water butt, itís a great way to take advantage of those torrential summer downpours that are often characteristic of a traditional British summer. Water at this time of year is particularly precious. Save and store every drop of rainwater that you can, if you are on a meter it will also save you some money.

Cut back spring flowering perennials

Many spring flowering perennials that have just finished flowering can be cut hard back now. This often encourages fresh new growth and a second flush of flowers. The oriental poppies are an example that will benefit from this treatment.

Irises

Keep the rhizomes of Irises clear of the foliage of other plants. This allows them to bake in the sun which will result in a better flowering display next year.

Ward off slugs and snails

Protect Hostas and other vulnerable plants from slugs and snails. Set beer traps or surround the plants with sharp grit.

Prune any shrubs that have just finished flowering. The deciduous Kerria for example should have any branches that are carrying spent blooms removed. Leave any flowerless shoots, they will flower next year. With evergreen shrubs, just trim to your desired shape after flowering.

Open Gardens

For inspiration, visit gardens open to the public, often for charity. Gather ideas, to make your own garden even more interesting and colourful at this time next year.

Fragrant Flowers

Purchase plants with fragrant summer flowers. Plant them in close proximity to patio areas so that you can sit and enjoy them for the next two or three months.

Dead-heading
Regular lawn mowing (raise the height of cut in very dry weather)
Trim border edges
Regularly spray roses against greenfly and blackspot
Water and feed containers and hanging baskets regularly
Continue to pinch out the vegetative side shoots on tomatoes, encouraging the development of more flowers and fruits. Also feed them once per week.
In the Vegetable Garden
Sow outside: Chicory, Lettuce, Peas, Runner beans, French beans, Courgettes, Marrows, Pumpkins, Radish, Carrots, Turnips, Swedes, Beetroot, Spinach and Broccoli
Plant out young plants that have been started indoors of: Celery, Sweetcorn, Tomatoes, Leeks, Courgettes, Marrows, Cucumbers and Pumpkins
Harvest: Rhubarb, Peas, French beans, Tomatoes, Onions, Radish, Carrots, Turnips, Beetroot, Early potatoes, Spinach, Cauliflowers and Cabbages
Forthcoming Garden and Flower Shows
Useful Links
.
---