Episode 31: Gardening Jobs & Our Plant of the Month for October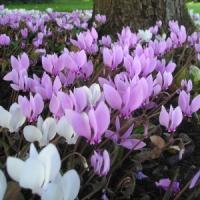 Our plant of the month; Liquidambar styraciflua 'Worplesdon' and jobs to do in the garden for October.
October is here, and if the weather allows this can be one of the most colourful months in the garden. Late flowering bulbs and herbaceous perennials are complimented by the wonderful changing foliage colours of many deciduous trees and shrubs. The fruits and berries of many plants are also a big feature this month. So fingers crossed for a relatively calm month, although strong October gales can often lead to an all too short season of autumn colour.
In this monthís edition of the podcast we look at seasonal gardening jobs to do in the garden during the month of October and our plant of the month for October, Liquidambar styraciflua 'Worplesdon'.
Plant of the Month
Our plant of the month for October is Liquidambar styraciflua 'Worplesdon'.
Common Name: Sweet gum
Deciduous, broad-crowned bushy, medium-sized tree
Fully hardy, RHS H6: Hardy in all of the UK and northern Europe (-20 to -15C)
Likes full sun, or partial shade
Height up to 25m, spread 12m
Average growth rate, 10-20 years for maturity, long lived
Flowers: Small inconspicuous bright green flowers in May; clusters of spikey fruits in autumn

Foliage: five-lobed, maple-like bright green leaves turning yellowish, orange then purple in autumn. Best colours are produced in acidic soil, so you could add sulphur to lower the soil's pH.

Soil: moist, well drained, acidic to neutral soil, drought resistant
RHS Award of Garden Merit
Generally pest and disease free; low maintenance
Maintenance: minimal pruning required, prune dead, diseased and crossing branches in late autumn or winter. Apply manure or well-rotted garden compost when planting and stake firmly.
Jobs in the Garden
Plant a Hedge

Many hedging plants are available to purchase as bare root plants during the autumn months. This makes planting a new hedge at this time of year cheaper than at other times of the year when only container grown plants are available.
Prepare the site carefully for a new hedge, dig in plenty of well-rotted manure or compost into the planting trench.
Take note of recommended distances between plants; the closer the plants are together the quicker the hedge will fill out. If you want a thick hedge, consider staggering the planting in a zig-zag formation effectively making the hedge two plants wide.
If you are happy to, use native hedging plants in your garden to encourage wildlife in to your garden.
Water the hedge well, especially during the first year of establishment.

Autumn Lawn Treatment

The autumn is a good time to scarify a lawn, removing thatch and moss from the grass.
Scarification allows the healthy grass shoots to thrive and encourages good air ventilation around the root zone.
Autumn lawn treatment can also be applied this month. Specially formulated, autumn lawn treatments are different to those used during the spring and summer because the priority is on strong root growth and development instead of the lush foliage growth aim of the spring and summer treatments.

Continue Spring Bulb Planting

Spring flowering bulbs should be planted in the autumn whilst the soil is still frost free and workable.
Some bulbs can cope better with wet winter soil than others. So refer to the planting instructions and if free draining soil is required add grit into the planting hole and around the crowns of the bulbs.

Spread a net over garden ponds to catch falling leaves
Lift and divide congested herbaceous perennials, keep the vigorous outer shoots
Lift and store tender bulbs e.g. Gladioli
Plant bare rooted plants e.g. roses, raspberries
Start to move tender pot grown plants into frost free greenhouses or conservatories
Plant up hanging baskets and tubs with hardy autumn and winter bedding
Start to clear up autumn leaf fall
Lightly fork over borders so that they absorb autumn rainfall quickly and efficiently
Dead-heading
Regular lawn mowing (raise the height of cut in very dry weather)
Trim border edges
In the Vegetable Garden
Sow seeds inside of: Lettuce.
Sow seeds outside of: Radish.
Harvest: Beetroot, Carrots, Swiss chard, Spinach, Cauliflower, Cabbage, Brussels sprouts, Turnips, Lettuce, Sweetcorn, Runner Beans, Tomatoes, Courgette, Swede, French Beans, Aubergine, Peppers, Leeks, Cucumber, Pumpkins and Radish.
Forthcoming Garden and Flower Shows
Useful Links
.
---