Episode 7: Understanding fertilisers & the Harrogate Autumn Show
The Harrogate Autumn Flower Show - 01' 23"
We discuss the Harrogate Autumn flower show featuring the particularly British pastime of growing of oversized vegetables for competition showing and the apparent abundance of the cabbage white butterflies this year.
Plant of the Month - 4' 10"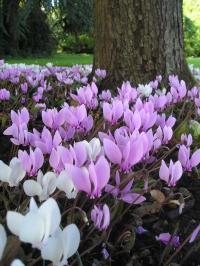 Out plant of the month for October is Cyclamen hederifolium also known as the Ivy-leaved Cyclamen. This plant grows up to 0.1m tall and 0.2m spread and is ideal for under-planting beneath mature trees.
They are hardy, like partial shade and have the RHS Award of Garden Merit.
Perfect Pairing - 8' 23"
For the month of October we've picked two plants that compliment each other: Malus x zumi 'Golden Hornet' (Crab Apple) and Liriope muscari.
Jobs in the Garden - 12' 55"
In the Vegetable Garden - 24' 58"
Plants of Note - 25' 31"
Another two plants that we felt we worthy of note for this month are:
Links
.
---