Episode 32: Gardening Jobs & Our Plant of the Month for April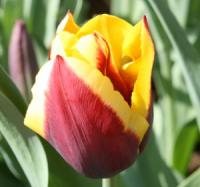 Our plant of the month; Magnolia denudata 'Yellow River' and jobs to do in the garden for April.
April is the month probably most associated with spring. March sometimes holds on to the cold and wet of winter, whilst May can be nearly as warm and summer-like as June.
Gardeners always have something to do, whatever the month, but April is probably the busiest month of the year in the garden. It is a month of fresh colour and lush new growth and a month full of the horticultural joys of spring.
Plant of the Month
Our plant of the month for April is Magnolia denudata 'Yellow River'

Named after Pierre Magnol, a professor of botany in the 16th century and originates from China
Has been cultivated in Chinese Buddhist temple gardens since 600 AD

Also known as Magnolia denudata 'Fei Huang', Lily tree, Tulip tree or Yulan magnolia

A good specimen tree in a small garden

Fully hardy, RHS H6: Hardy in all of the UK and northern Europe (-20 to -15C)
Deciduous, tree/shrub
Height up to 6-10m, spread 6-10m
Full sun or partial shade

Flowers: Large, 10cm long, creamy yellow goblet-shaped flowers from April to May on bare branches, with a sweet lemon fragrance.

Foliage: Bright green, oval shaped leaves, 15cm long, 8cm wide

Soil: Moist, fertile, well drained slightly acidic / ericaceous soil
Prefers a sheltered site out of potential frost pockets and doesn't like an exposed or windy position. Protect from hard spring frosts.
Best time to plant is April, with plenty of well rotted manure or garden compost in the planting hole
Maintenance: Generally low maintenance. Mulch in spring with well rotted manure or garden compost, water new plants well during the growing season until established. Prune after flowering when in full leaf to retain shape and remove damaged or crossing branches
Potential Problems: Scale insects, honey fungus, coral spot, grey mould

Jobs in the Garden
Cut-back Penstemons and Hardy Fuchsias

Now that the worst of the winter weather is becoming a distant memory, these two borderline hardy plants can be pruned
Last month the potential for a severe late frost was still there and the top growth of these plants protected the fresh basal shoots
Cut all of the older shoots down to these young basal shoots this month

Mulch Borders and Flower Beds

Mulch this month, with the aim of preventing soil moisture evaporation, locking in moisture from previous months
Mulching also slows down weed growth if sterile mulch is used e.g. bark chip or Cocoa shell

April is one of the busiest months for lawn care
Mowing is usually necessary at least once per week in April
Organic or in-organic feed/weed treatments can be applied
Lawns can be scarified
Any winter damage can be repaired with seed or turf

Herbaceous Perennials

There is still time this month to split congested clumps of herbaceous plants
Prise them apart with two forks or divide with a spade
The centre of the perennial will be the most tired, just keep the outside sections

Feed roses with specialist rose food
Dead-head early flowering bulbs
Keep an eye on night time temperatures and protect the flowers of fruit trees when frost is forecast, using horticultural fleece
Prune Forsythia and early flowering shrubs as soon as they have finished flowering
Plant out half-hardy or tender summer bulbs such as Dahlias and Gladioli
Sow hardy annuals e.g. Clarkia in the border, where you want them to flower
Plant evergreen trees and shrubs
Container grown plants can also be planted this month
In the Vegetable Garden
Sow inside: Runner beans, Tomatoes, Marrows, Courgettes, Cucumbers, Melons, Pumpkins, Sweetcorn.
Plant out without the need to protect from frost: Early and maincrop potato varieties, Kale, Spinach, Swiss Chard, Calabrese, Lettuce, Globe artichokes, one-year old Asparagus crowns, Peas, Carrots, French beans, Leeks and Onions (seeds and sets)
Young aubergine plants can be moved to a cold frame this month for hardening off
Forthcoming Garden and Flower Shows
Useful Links
.
---