Episode 23: Garden Planning for the Year Ahead and Gardening Jobs & Plants of Interest for February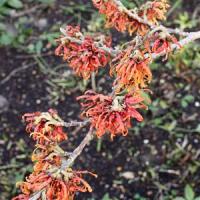 In this month's edition of the podcast we look at planning your garden for the year ahead, seasonal gardening jobs to do in the garden during the month of February and a selection of plants that look good in the garden at this time of year.
Plant of the Month
Our plant of the month for February is Prunus x subhirtella 'Autumnalis' – Winter Cherry or Rosebud Cherry.
Synonym: Prunus 'Autumnalis Alba'
Delicate flowers open from deep pink buds starting in autumn
A fully hardy, deciduous tree that prefers full sun and moist, but well drained, moderately fertile soil
Short lengths of branches can be cut and taken indoors for winter flower arrangements
Height up to 8m, spread 8m, usually doesn't get to 8m tall though
Growth Rate: Average, 10 – 20 years to maturity
Flowers: From October to April, no other ornamental cherry manages to achieve this. Semi-double, 1cm across in small clusters, white flowers
Foliage: 7cm long, oval and sharply toothed. Bronze-green foliage in spring and orange and yellow autumn leaf colour
Longer lived than other Japanese ornamental cherries
Surface rooter, so plant in a square hole to encourage roots outward rather than round and round in a circle
Maintenance: Low maintenance, may get caterpillars, leaf-mining moths and may be affected by silver leaf, bacterial canker and blossom wilt
Jobs in the Garden
Plan the year ahead

The volume of work to do in the garden this month is minimal when compared to March, April or May, so this can give you a bit of time to spend thinking about the gardening year ahead.

Why not take the opportunity to walk around your garden with a notepad; Do you want to change the shape of any beds or borders perhaps? Think back to last season, does your garden lack colour or structure at particular times of year?

Contemplate, plan, appraise and build a picture in your mind (or on paper) of how you want your garden to look in the year ahead. Time spent in reconnaissance is never wasted as they say.

Apple and pear trees need pruning during the winter months and it's not too late to still be doing this in February.

Some Clematis can be pruned in February.

The key to pruning these popular climbers is to know and remember when they flower. If your Clematis flowers in mid-late summer, it probably flowers on the new wood and so is not too early to prune it now.

Cut back the growth from last year to about 40cm above ground level, cutting back to a strong pair of buds.

Sort out your compost heap

If you haven't done this already this winter, now is a good time to sort through your compost heap.

Garden waste near the top of the heap will probably not have rotted enough yet. Remove this and get to the compost underneath that should be well rotted. Get it on to your beds and borders and dig it in or use it as a mulch.

Pots, hanging baskets and window boxes

Continue to feed fortnightly with a liquid feed and dead-head regularly. Pots, hanging baskets and window boxes can still be full of flower and colour at this time of year if you look after them.

Tidy up the garden shed

Most gardeners have a little more time on their hands at this time of year, so spend some time giving the garden shed a good tidy-up. Clean all pots and equipment (using something like Jeyes fluid) and also oil and sharpen the tools that need it.


Dig the vegetable plot

Providing the soil is not too wet or frozen, the vegetable plot can be dug this month. As you dig each trench, add well rotted manure or garden compost to help replace some of the nutrients that will have been used by last year's crops.

If heavy snow falls, shake it off the branches of trees and shrubs to prevent them snapping under the weight
Get lawnmower serviced and blade sharpened
Look through seed catalogues and decide what you would like to grow from seed when spring arrives
Wisteria pruning – twice a year; summer and winter. Read our article on How to Prune a Wisteria.
In the Vegetable Garden
Sow inside: Peas, Aubergines, Peppers, Onions, Cucumbers and Cabbages.
Sow outside: Broad beans, Onions and Carrots.
Plant out: Lettuce, Rhubarb, Garlic and Shallots.
Harvest: Leeks, Kale, Brussels sprouts and Cabbages.
Plants of Note
Two plants that we felt were worthy of note for this month are:
Fully hardy deciduous, bulbous perennial
From west Turkey
The Latin name is in honour of Lucile, the wife of the Swiss botanist Pierre Edmond Boissier – there is also a cultivar with his name (Boiss) which has the RHS AGM award

RHS H5 -10 to -15°C; Hardy in most places throughout the UK, even in severe winters
Growth Rate: Average, 2-5 years maturity
15cm tall, 5cm spread
Full sun
Soil: Any well-drained soil
Flowers: Small (3cm wide) upward facing star shaped flowers, violet-blue with white-centres, in clusters of 2-3 on a leafless stems from February to April
Foliage: Paired, slender, strap-shaped leaves
Ideal around the base of deciduous shrubs or trees or in a rock garden
Synonym: Hamamelis x intermedia 'New Red'
Fully hardy deciduous shrub
RHS H5 -10 to -15°C; Hardy in most places throughout the UK, even in severe winters
RHS Award of Garden Merit
Growth Rate: Slow growing, 10-20 years to maturity
4m tall, 4m spread with a open, bushy habit
Full sun or partial shade
Soil: Moderately fertile, moist, but well-drained, neutral to acidic soil
Flowers: Clusters of fragrant orange-red flowers on bare branches, each flower with 4 narrow petals; from January to February
Flowering twigs can be cut and brought inside to fragrance a room
Foliage: Bright green oval leaves turning red, orange and yellow in autumn
Maintenance: Generally pest free. In early spring mulch with well-rotted compost or manure and prune any diseased or crossing branches
Forthcoming Garden and Flower Shows
20 - 21 February 2015: RHS London Plant and Potato Fair 2015. A chance to buy colourful some spring plants and learn about one of the UK's favourite vegetables, the humble potato
Useful Links
.
---