Episode 8: Interview with Malcolm Dickson of Hooksgreen Herbs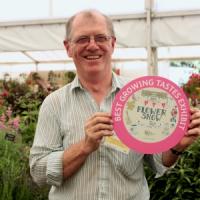 In this month's edition of the podcast we discuss seasonal gardening jobs to do in the garden during the month of November and a selection of plants that look good at this time of year.
Malcolm Dickson of Hooksgreen Herbs Interview - 04' 27"
We talk to Malcolm Dickson of Hooksgreen herbs in Staffordshire who are one of the UK's top herb nurseries that as well as selling their herbs online, also regularly exhibit at all of the big garden shows and plant fairs across the UK, including the prestigious RHS Chelsea Flower Show.
Plant of the Month - 23' 47"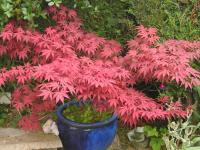 Out plant of the month for November is Acer palmatum 'Atropurpureum' also known as the Japanese maple. This slow growing tree grows up to 5m tall with a 5m spread, although is often grown in containers.
This deciduous tree has palmate, deep purple leaves which turn a beautiful bright red in autumn. Acer palmatum 'Atropurpureum' prefers locations that afford a degree of shelter from cold, drying winds and likes acidic soil.
Perfect Pairing - 28' 43"
For the month of November we've picked two plants that compliment each other because of their colouring: Betula utilis var. jacquemontii (West Himalayan Birch) with its white bark and Crocus speciosus 'Albus' with its white flowers.
Betula utilis var. jacquemontii is a fast growing, hardy, deciduous tree that grows up to 18m tall with a 10m spread. It likes full sun or partial shade with moist, well drained soil and is notable for its striking white bark.
Crocus speciosus 'Albus' is an autumn flowering crocus that grows up to 10cm tall with a 5cm spread and is fully hardy. It likes full sun with well drained soil.
Jobs in the Garden - 32' 43"
Take Hardwood Cuttings
Collect Fallen Leaves; Spread a net over garden ponds to catch falling leaves
Lift and divide congested herbaceous perennials, keep the vigorous outer shoots
Plant bare rooted trees and shrubs
Lightly fork over borders so that they absorb autumn rainfall quickly and efficiently
Cut lawns for the final time
Complete planting of tulip bulbs
Sites for new lawns can be prepared for seed sowing in the spring
Gunnera manicata leaves can be cut back and used to cover the crowns for protection against winter weather
In the Vegetable Garden - 37' 40"
Sow seeds outside of: Broad beans.
Plant out: Garlic cloves.
Harvest: Swiss chard, Spinach, Cauliflower, Brussels sprouts, Swede, Leeks, Radish, Parsnips and Kale.
Plants of Note - 39' 09"
Another two plants that we felt we worthy of note for this month are:
.
---