Episode 15: The 2014 Chelsea Flower Show & Gardening Jobs for June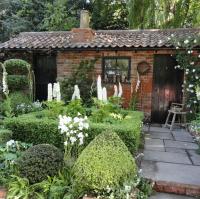 In this month's edition of the podcast we talk to a selection of the top garden designers at the 2014 RHS Chelsea Flower show, including Alan Titchmarsh. We also look at seasonal gardening jobs to do in the garden during the month of June and a selection of plants that look good in the garden at this time of year.
Interviews with Chelsea Garden Designers - 7' 33"
At the 2014 RHS Chelsea Flower show we talked to some of the top garden designers and exhibitors:
John Everiss – The "Reachout" concept or fresh garden, winning a gold medal
Bleddyn Wynn-Jones – Modern day plant hunter from Crug Farm Nursery, winning a silver medal
Malcolm Dickson – "The Enchanting World of the Peter Rabbit Herb Garden", winning a gold medal
Alan Titchmarsh - "From the Moors to the Sea" with Kate Gould, celebrating 50 years of Britain in bloom and Alan's 50 years in horticulture
Click here to view photos of the 2014 RHS Chelsea flower show on our Facebook page.
Plant of the Month - 24' 54"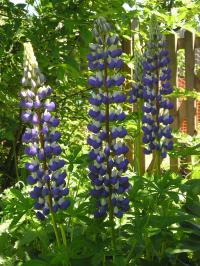 Our plant of the month for June is Lupinus 'The Governor'.
Latin translation Lupinus comes from 'wolf'; a reference to how some species often smother and kill weaker plants
Height 1m, spread 75cm
Hardy perennial, likes full sun or partial shade
Average growth rate
Soil: Moderately fertile, well drained, slightly acidic soil
Flowers: June and July, blue and white, tall flower spikes
Interesting mid-green palmate leaves
A member of the pea family
Stake up in spring before the flowers appear
Promptly dead-head spent flowers to encourage second flush of flowers
In less than ideal conditions Lupinus 'The Governor' can be short lived
Jobs in the Garden - 28' 12"
Save and store rainwater
Cut back spring flowering perennials - encourages new growth and a second flush of flowers
Irises - Keep rhizomes clear of the foliage of other plants to allow them to bake in the sun
Ward off slugs and snails – Hostas; Set beer traps or surround the plants with sharp grit
Shrub pruning - Prune any shrubs that have just finished flowering e.g. Kerria
Open Gardens - For inspiration, visit gardens open to the public, National Garden Scheme
Fragrant flowers - Plant in close proximity to patio
Dead-heading
Regular lawn mowing (raise the height of cut in very dry weather)
Trim border edges
Regularly spray roses against greenfly and blackspot
Water and feed containers and hanging baskets regularly
Continue to pinch out the vegetative side shoots on tomatoes, encouraging the development of more flowers and fruits. Also feed them once per week.
In the Vegetable Garden - 31' 38"
Sow seeds outside of: Lettuce, Runner beans, French beans, Pumpkins, Radish, Carrots, Swedes, Beetroot and Spinach
Plant out young plants that you have started indoors of: Celery, Sweetcorn, Leeks and Pumpkins
Harvest: Rhubarb, French beans, Onions, Radish, Carrots and Beetroot
Plants of Note - 32' 39"
Two plants that we felt were worthy of note for this month are:
Semi-evergreen, Hardy perennial
Cross between a Heuchera and a Tiarella
Average growth rate
45cm tall, 35cm spread
Partial shade
Interesting foliage, large lobed, rusty coloured leaves with reder central colour and veining
Soil: Moist, well-drained, fertile soil
Flowers: cream on flower spikes, June to August
Good for containers
Tidy up foliage in autumn and divide every few years

Hardy perennial
Aconitum is derived from the Greek for 'dart', a reference to how arrows were dipped in its sap as a poison
Average growth rate
1.5m tall, 30cm spread
Full sun or partial shade, prefers some shade though
Soil: Moist, Fertile, well-drained soil
Flowers: tall flower spikes of pale metallic blue & white, June to August
Toxic if eaten and a skin irritant
RHS Award of Garden Merit

Forthcoming Garden and Flower Shows - 37' 32"
Useful Links
.
---