Episode 22: Plant Hardiness Classifications and Gardening Jobs & Plants of Interest for January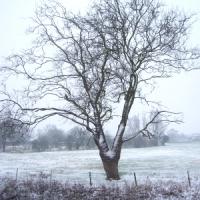 Understanding plant hardiness classifications, our plant of the month; Chimonathus praecox, plants of interest for this month; Cyclamen coum and Erica carnea 'Myretoun Ruby' and jobs to do in the garden for January.
In this month's edition of the podcast we look at plant hardiness classifications, seasonal gardening jobs to do in the garden during the month of January, and a selection of plants that look good in the garden at this time of year.
Understanding Plant Hardiness Scales - 01' 19"
We discuss plant hardiness classification systems, in particular the new RHS system, but also the US and European systems and how they can help you to choose the right plants for your geographical position.
RHS Hardiness Classifications - Minimum Survivable Temperatures

H1a (>15°C) Heated greenhouse, tropical
H1b (15 to 10°C) Heated greenhouse, subtropical
H1c (10 to 5°C) Heated greenhouse, warm temperate
H2 (5 to 1°C) Tender, cool or frost-free greenhouse
H3 (1 to -5°C) Half hardy, unheated greenhouse/mild winter
H4 (-5 to -10°C) Hardy, average winter
H5 (-10 to -15°C) Hardy, cold winter
H6 (-15 to -20°C) Hardy, very cold winter
H7 (<-20°C) Very hardy
For more details see RHS Plant Hardiness Ratings.
Plant of the Month - 12' 40"
Our plant of the month for January is Chimonathus praecox – Wintersweet or Japanese allspice.
Fully hardy, deciduous shrub, native to China
Introduced into the UK in 1766
Chimonanthus means "winter-flowering"
RHS H4 – Hardy through most of the UK (-5 to -10°C)
Likes full sun, so good trained against a south facing wall in a sheltered position
Height up to 4m, spread 3m
Growth Rate: Fast
Soil: Moist but well-drained
Flowers: From December to February with small bowl-shaped yellow flowers, strongly fragrant, tinged purplish-red inside and borne on bare branches in winter. May take a few years to get established before it starts to flower.
Maintenance: Minimal pruning required, best in late spring. Remove dead, diseased or crossing branches. Mulch with compost.
Good for flower arranging
'Luteus' cultivar has the RHS Award of Garden Merit
Jobs in the Garden - 14' 58"
Plant Bare Root Trees and Shrubs

Most planting done this month is of bare root plants that are often cheaper than container grown specimens, but only available during the autumn and winter. If the weather is suitable, the soil not too wet or frozen, then planting can still be carried out this month.
Dig a hole wide enough and deep enough to accommodate the spread of the roots. Fork well-rotted garden compost or horse manure into the base of the hole and then position the plant in the hole. Next bang in a tree stake if necessary and tie it to the tree. Then backfill the hole with the soil you dug out, again with some added manure or compost, heeling in as you go so that the soil does not sink in subsequent days.
Finally if you think rabbits or other pests might be a problem, put a tree guard around the trunk of the tree and remember to water well next spring and summer.

Feed the Birds

Many people feed garden birds all year around although, perhaps they should be encouraged to feed on the plentiful supply of insects, seeds etc. during the spring and summer months, which help to keep the pests down in the garden. It's at this time of year however that they really need us to help get them through the winter. If you can, try to supply a good range of foods for the different species that visit your garden and make sure there is a regular supply of unfrozen fresh water.

If heavy snow falls, shake it off the branches of trees and shrubs to prevent them snapping under the weight
Check existing tree stakes and ties; make sure they are not too tight and digging into the bark of the tree. Remove any stakes that are no longer needed
Get lawnmower serviced and blade sharpened
Look through seed catalogues and decide what you would like to grow from seed when spring arrives
Continue Fruit tree pruning
Wisteria pruning – twice a year; summer and winter. Read our article on How to Prune a Wisteria.
In the Vegetable Garden - 22' 03"
Sow inside: Peppers and Cauliflower
Plant out: Rhubarb
Harvest: Leeks, Kale and Cabbage
Plants of Note - 22' 41"
Two plants that we felt were worthy of note for this month are:
Fully hardy deciduous, tuberous herbaceous perennial
RHS H5 -10 to -15°C; Hardy in most places throughout the UK, even in severe winters
Growth Rate: Average, 2-5 years to maturity
10cm tall, 10cm spread
Partial shade
Soil: Moderately fertile, moist but well-drained, humus-rich soil
Flowers: Small (2cm wide) pink or white flowers with up-swept petals, January to March
Foliage: Rounded silvery green marbled leaves
Ideal around the base of deciduous trees or with ferns in shady areas
RHS Award of Garden Merit
Maintenance: In spring apply a mulch of leaf-mould when the leaves die back
Pests: Vine weevil can attack pot grown specimens, but they're generally disease free
Fully hardy evergreen shrub
RHS H7 less than -20°C Hardy in the severest European continental climates
RHS Award of Garden Merit
RHS Perfect for Pollinators Award
Growth Rate: Average , 5-10 years to maturity
25cm tall, 45cm spread; low and spreading in habit
Full sun but can tolerate partial shade
Soil: Preferably well-drained acidic soil, but they can tolerate mildly alkaline soil
Flowers: Masses of small, bell-shaped, tubular, deep rose-pink flowers from January to May
Foliage: Dark-green needle-like leaves
Maintenance: Generally pest free. After flowering, trim with shears to remove the spent flowers and encourage further bushy growth
Useful Links
.
---