Episode 10: Gardening Jobs and Plants of Interest for January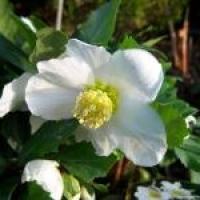 In this month's edition of the podcast we discuss seasonal gardening jobs to do in the garden during the month of January and a selection of plants that look good at this time of year.
We also take a quick look back at the first six months of this podcast and how and why we decided to set-up this website in the first place.

Plant of the Month - 10' 24"
Our plant of the month for January is Helleborus niger also known as the Christmas Rose.
Height 30cm, spread 50cm
Hardy perennial, likes partial shade; good for a woodland garden

Average growth
Soil: Moist, well drained loam
Flowers from January to April, white saucer-shaped flowers

Evergreen, mid-dark green leathery leaves
Perfect Pairing - 14' 11"
For the month of January we've picked two plants that compliment each other:
Average growing suitable for medium sized garden
15m tall, 15m spread
Full sun/partial shade, moist, well drained
Flowers: Yellow, Apr & May
Vertically striped green-and-white bark
Shelter from cold winds
Clusters of pink-brown autumn fruit
Colourful autumn foliage
Ideal to under plant the Acer davidii for some much needed winter colour
Average growing, hardy snowdrop
30cm tall, 8cm spread
Full sun, Partial shade, moist, well drained loam soil
Flowers: double pure white pear-shaped flowers with green-tipped inner petals, Jan to Feb
Grey-green leaves
RHS Award of Garden Merit
Jobs in the Garden - 20' 07"
If heavy snow falls, shake off branches of trees & shrubs to prevent snapping under weight
Plant bare root trees and shrubs
Feed the birds
Check existing tree stakes and ties, make sure they are not too tight and digging into the bark of the tree. Remove any stakes that are no longer needed
Get lawnmower serviced and blade sharpened
Look through seed catalogues and decide what you would like to grow from seed when spring arrives
In the Vegetable Garden - 22' 08"
Sow inside: Peppers
Plant out: Rhubarb crowns
Harvest: Leeks Kale and Cabbage
Plants of Note - 22' 57"
Another two plants that we felt were worthy of note for this month are:
Average growing, deciduous, hardy shrub
3m tall, 2m spread
Full sun/partial shade, moist, well-drained soil
Flowers: dense clusters of fragrant pink on bare stems, Nov to Mar, long flowering period
Toothed, dark green leaves
Average growing, hardy, evergreen heather
15cm tall, 30cm spread
Full sun/partial shade, moist, well-drained, prefers ericaceous soil
Flowers: white, urn shaped, Jan to Mar
Bright green foliage
Useful Links
Plant Finder - Search our plant database via our advanced search option to find a variety of plants.
.
---