Episode 16: Chelsea Flower Show Interviews & Gardening Jobs for July
In this month's edition of the podcast we talk to a selection of the top garden designers at the 2014 RHS Chelsea Flower show. We also look at seasonal gardening jobs to do in the garden during the month of July and a selection of plants that look good in the garden at this time of year.
Interviews with Chelsea Garden Designers - 5' 54"
At the 2014 RHS Chelsea Flower show we talked to some of the top garden designers:
Click here to view photos of the 2014 RHS Chelsea flower show on our Facebook page.
Plant of the Month - 19' 35"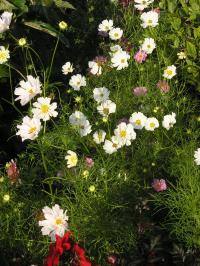 Our plant of the month for July is Cosmos bipinnatus.
The ancient Greek word 'Kosmos' means 'beautiful'
Many cultivars produced
Species native to Mexico
Frost tender annual, likes full sun
Height up to 1.5m, spread 0.5m; staking may be required
Average growth rate
Soil: Moderately fertile, moist, well drained
Flowers: Long flowering, June to October; large, showy saucer-shaped flowers
Dead head regularly
Attractive, finely divided-feathery foliage
Many cultivars have the RHS perfect for pollinators award
Of the cultivars, 'Purity' has pure white saucer-shaped flowers and grows up to 1.2 metres tall. 'Dazzler' grows up to 1 metre tall and has bright red flowers. The flowers of 'Rubenza' (0.9m) emerge a deep velvet red from the bud, but mature to a lighter rich rose colour. 'Sensation Picotee' grows up to 1.2 metres tall and has soft pinkish-white flowers with a rich crimson edge.
Jobs in the Garden - 26' 56"
Lift and Divide Irises - Irises that have not been split for a few years can become tired and lose their vigour, and this can affect their flowering performance. Dig the clumps up, select the best, plumpest rhizomes and replant them with good space between them having added some well-rotted compost or manure to the soil beforehand. Finally cut back the tall foliage by half, this stops them rocking around too much in the wind as they re-root and it also reduces the amount of evaporation from the leaf surface.
Collect Seed - Save and store seed of your favourite Aquilegia and Primula. They will set themselves about in the garden, but if you collect the seed beforehand you can have a say as to where they colonise. Sow as soon as the seed is ripe.
Lift and store spring bulbs such as daffodils and tulips - You don't have to do this every year, but it is a good routine to get into if you want to create more spring colour around the garden. Dig up the bulbs, remove any young bulbs growing on the sides of the larger ones and store all of them for replanting in the autumn. Discard any diseased or unhealthy looking bulbs.
Trim and Shape Hedges - If you have left this job until now, well done! Garden birds will have had plenty of time to raise their offspring in the hedges by now and the risk of disturbing them should have passed.
If you are going on holiday, plan how you are going to keep your plants watered whilst you are away.
Cutting Delphiniums to the ground after flowering may encourage a second flush of flowers.
Tie flowers that are flopping over on to stakes
Dead-heading
Regular lawn mowing (raise the height of cut in very dry weather)
Trim border edges
Regularly spray roses against greenfly and blackspot
Damp down greenhouse paths regularly to create a humid atmosphere that pests such as red spider mite do not like
Water and feed containers and hanging baskets regularly
Cut flowers now to dry for winter arrangements, hang them upside down in an airy place. Suitable plants include bergamots, lavender and teasel.
In the Vegetable Garden - 31' 18"
Sow seeds outside of: Lettuce, Radish, Carrots, Turnips, Beetroot, Spinach, Swiss Chard and Cabbage
Harvest: Rhubarb, Peas, French beans, Tomatoes, Onions, Radish, Carrots, Turnips, Beetroot, Spinach, Cauliflowers, Cabbages, Lettuce, Globe Artichokes, Broad beans, Runner Beans, Garlic, Shallots, Marrows, Courgettes, Cucumbers, Potatoes, Calabrese, Broccoli and Swiss Chard
Plants of Note - 33' 24"
Two plants that we felt were worthy of note for this month are:
Hardy floribunda rose
Novelty Rose of the Year 2006
Fast growth rate
1m tall, 0.6m spread
Prefers full sun
Soil: Moist, well-drained, fertile soil
Flowers: Buds starts off a rusty orange and open to a rich velvety-brown, June to September

Foliage: glossy, dark green
Easy to grow variety with good disease resistance
Should be pruned from late winter to early spring
Strong fragrance
RHS Award of Garden Merit
The word Lavandula is derived from the Latin for 'wash'; a reference to how the Greeks and Romans would use these plants as a herbal additive in their bathing water
The species name angustifolia is Latin for "narrow leaf". Previously, it was known as Lavandula officinalis, referring to its medicinal properties
A compact form of the popular English lavender, named after plantsman Laurence Johnston's famous Arts and Crafts garden in Gloucestershire: Hidcote Manor
Hardy, evergreen shrub
Drought tolerant
Average growth rate
0.6m tall, 0.75m spread
Prefers full sun
Soil: Moderately fertile, well-drained soil
Flowers: Deep violet, July to September
Foliage: Aromatic, silvery-grey leaves
Cut back the stalks after the flowers have faded.
Trim back in spring, avoiding cutting into old wood
RHS Award of Garden Merit
RHS Perfect for Pollinators
Forthcoming Garden and Flower Shows - 43' 01"
Useful Links
.
---